Access Admin FastGem in whichever instance you are building forms in. 
Go into 'Form Management'
Click on the form you are wanting to configure. (Customer LOA is used as an example in this article.) 
In the left hand margin's menu, find and click on 'Hidden Field.'
In the 'Name' field of the Hidden field properties, type in appointment_id (as shown below)
Click the blue 'Save' button. 
Scroll to the bottom of the Fields page, and you should see a hidden fields section with the field added 
Click 'Save & Close.'
(The steps above will insure that once the form is configured and put into FastGem, that it will function properly for instance users.)
On the Form Management page, Click on 'Manage Directories' in the left hand menu. 
Choose the form from the list that you want to configure. (We will use 'CUSTOMER LETTER OF AGENCY' from the Demo Instance..
Toggle 'Enable PDF Support' and 'Hide Empty Values' to 'Yes' .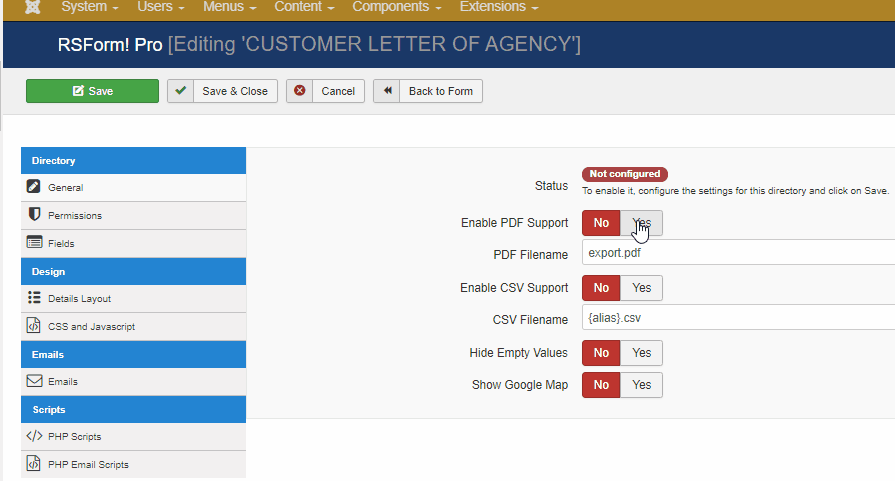 Click on 'Fields' in the left hand margin menu. 
In the 'Show in Details' column, you can select the checkbox for the details that you want to show up in the form. (Do not include hidden fields) 
Click 'Save and Close.'
Now, Click on 'Menus'>hidden>Add New Menu Item.
For the 'Menu Item Type'- Click 'Select' and then, click on RSFORM! PRO>Submissions-Directory on the menu that displays.
Click on 'Options' Tab on Menu screen. 
In the 'Form' field, Click on the form you just configured. (In this case, 'CUSTOMER LETTER OF AGENCY')
Toggle 'Enable Directory' to 'Yes.' 
Click back on the 'Details' tab.
On the right hand side of the 'details' page, in the 'Parent Item dropdown', select 'Tech-Forms'. This will make sure that this form will be available in the Work Orders/Tech tabs. 
Type the form name in the 'Menu Title' field and 'alias' fields (with hyphens separating each word'