*You must first install the FastGem Chrome Plug-in. If you have not done this, please see the training article on 'Installing FastGem Chrome Extension' before continuing this article.
From within a SAVED Customer or Lead record, go to the 'Utils' tab:
Select the Provider you need (if you do not see the necessary provider, please contact FastGem support so that we can enable them for you):
The Provider's portal page should open in a new tab. If your Overlay tool is already installed, the screen below may automatically open in another tab. If it does, even if the bar at the top says "Success," make sure you've entered your login information and click "Submit" again. (For instructions on how to install the FastGem Overlay tool, please see help article "Installing FastGem Chrome Extension.") 
Return to your Provider portal tab. The FastGem overlay tool can be expanded/hidden on this page using the small arrow tab. The overlay should already be populated with the customer ID, name, etc. If customer Name and ID are missing, click the green 'Load' button to load them.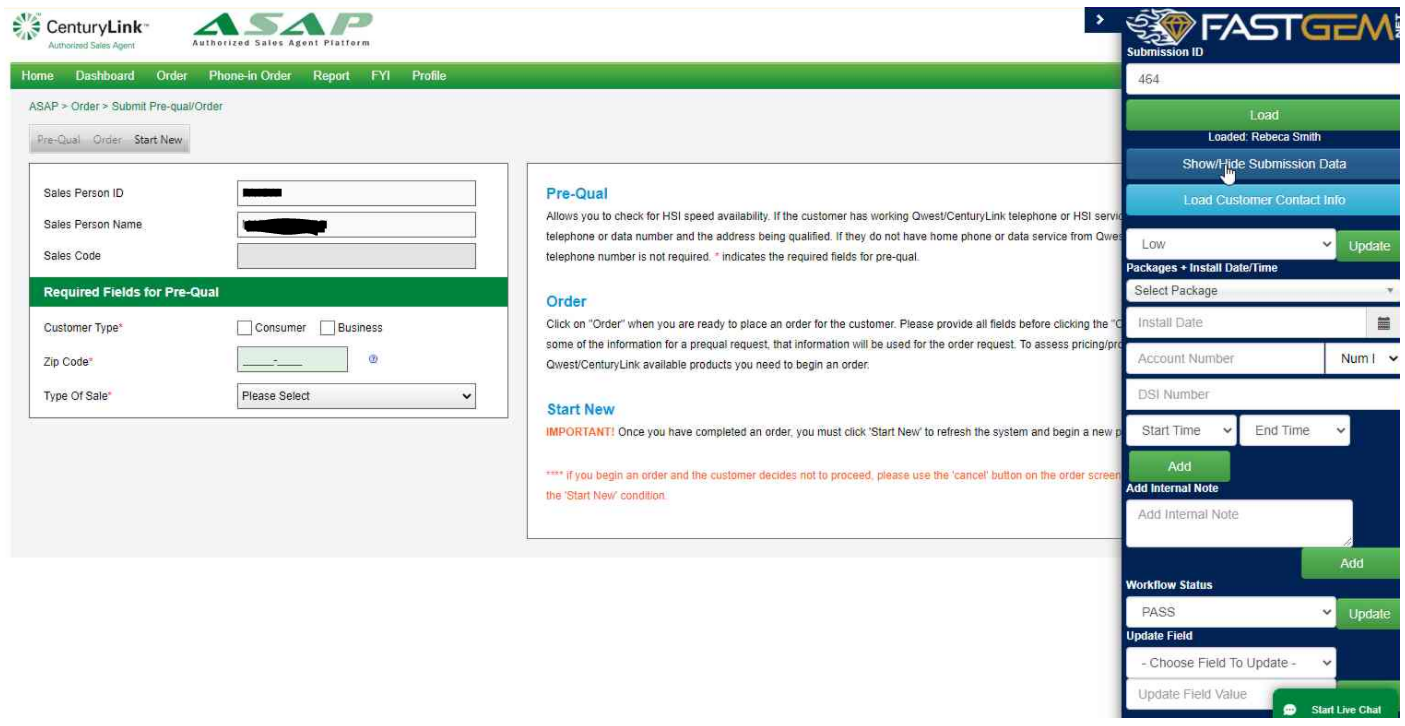 Log into your Provider portal, if necessary (for information on how to tie provider portal logins to FastGem user accounts so that you will not need to log into provider portals when accessing them through the Utils tab, please see help article 'Tying Provider Portal Logins to FastGem User Accounts'. Use the Overlay tool to help you enter the necessary information to process the customer's order. For example, you can click the "Load Customer Contact Info" button in the FastGem Overlay tool when you reach the applicable page in the Provider Portal, and FastGem will auto-fill the customer's contact information into the provider portal for you. Clicking "Show/Hide Submission Data" allows you to see what specifically the customer ordered, without having to switch back and form between tabs: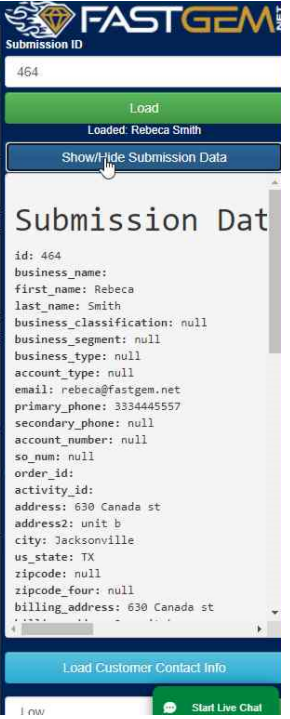 You can also update your instance's main FastGem site from the Overlay tool by entering information into the tool and clicking the green "Add" or "Update" buttons beside specific fields. For example, if the provider assigns the customer an account number and you need to add it to the work order, if you'd like to add a note to the customer's work order, or if you want to change the customer's status while you are still using the provider portal, just enter that information into the FastGem Overlay and click "Add" or "Update" accordingly. The information will carry over into FastGem. You don't have to switch tabs. 
If you have any questions about the provider portal overlay tool, please contact FastGem support at (504) 383-0602 (This email address is being protected from spambots. You need JavaScript enabled to view it.)